DISCURSOS DO CINEMA BRASILEIRO: SUBJETIVAÇÃO POLÍTICA ATRAVÉS DE REPRESENTAÇÕES DE CONFLITOS SOCIAIS NO CINEMA PÓS-RETOMADA (2004-2019)
Resumo
Este artículo busca contribuir a la caracterización de la cultura política brasileña desde la perspectiva particular del cine brasileño contemporáneo. En el contexto de sociedades mediatizadas y marcadas visualmente, las películas transmiten discursos que prescriben ciertas formas de comprensión y acción de las personas en el mundo, haciendo científicamente relevante su estudio. Por eso, la presente investigación buscó identificar los discursos cinematográficos en el cine brasileño, centrándose en las representaciones de los conflictos sociales y cómo participan del proceso más amplio de subjetivación política, particularmente en el período posterior a la reanudación (2004-2019). Para ello, se examinaron siete películas pertenecientes al período a través del Análisis del Discurso, prestando especial atención a los repertorios interpretativos y representaciones visuales predominantes en ellos. La investigación permitió identificar discursos en los que los actores sociales toman la forma de individuos pragmáticos, que se involucran en luchas cotidianas por el reconocimiento, con mediaciones ineficaces y en medio de una sociedad marcadamente atomizada y hostil. 
Referências
AGUIAR, Thiago. Invisibilidade social a partir do filme O som ao redor: uma análise honnethiana das patologias sociais no Brasil. Ciências Sociais Unisinos, v. 51, n°1, Universidade do Vale do Rio dos Sinos, p. 52-60, 2015.
AGUIAR, Vanessa. El rostro de Brasil en el cine contemporáneo brasileño de 1994 a 2010 (Tesis Doctoral) Universidad de Zaragoza, Zaragoza. España, 2014.
AMORIM NETO, Octavio y SANTOS, Fabiano. La ciencia política en Brasil en la última década: La nacionalización y la lenta superación del parroquialismo. Revista de Ciencia Política, Santiago, Chile. n°35 (1), p.19-31, 2015.
AMORIM, Celso. Brazilian foreign policy under President Lula (2003-2010): an overview. Revista Brasileira de Política Internacional, n°53, p. 214-240, 2010.
ANCINE, Agencia Nacional do Cinema. Disponible en <https://www.ancine.gov.br/>. Consultado 2 de Marzo, 2020.
BANKS, Marcus. Los datos visuales en investigación cualitativa. Madrid, España. Ediciones Morata S.L, 2010.
BAQUERO, Marcello. Corrupção, cultura política e capital social negativo no Brasil. Revista Debates, n°9(2), p. 139–157, 2015.
BARROS, Eduardo. O cinema brasileiro na pós-retomada: entre o imaginário autoral e a realidade figurativa. Esferas, ano 3, n°4, p. 183-191, 2014.
BERGER, John. Ways of Seeing (episodes 1-4) - John Berger [Archivo de Video]. Disponible en <https://www.youtube.com/watch?v=0pDE4VX_9Kk> Consultado marzo 2020).
BRINGEL, Breno y DOMINGUES, José. De las protestas de junio de 2013 al Golpe de 2016. Capítulo 4, En: Brasil, cambio de era: crisis, protestas y ciclos políticos. Editorial Catarata, Madrid, 2018.
BUTLER, Judith. The psychic life of power. Theories in subjection, United States: Stanford University Press, 1997.
CABRERA, Marta. Mapeando los estudios visuales en América Latina: puntos de partida, anclajes institucionales e iniciativas. Cuadernos de Música, Artes Visuales y Artes Escénicas, v. 9, n°2, p. 9-20, 2014.
CARDOZO, Nelson. La ciencia política en Brasil: una historia en pujante desarrollo, Iberoamericana, XIV, n°56 (2014), p. 186-190, 2014.
CASETTI, Francesco y DI CHIO, Federico. Cómo analizar un film. Barcelona, España. Editorial Paidós, 1990.
CHAPLIN, Elizabeth. Sociology and Visual Representation. London, UK. Editorial Routledge, 1994.
COSER, Lewis. Las funciones del conflicto social. Ciudad de México, México. Fondo de Cultura Económica, 1961.
DELEUZE, Gilles. Dos regímenes de locos: textos y entrevistas: (1975-1995). Valencia. España. Editorial Pre-textos, 2007.
DOMINGUEZ, Laura; PALMA, Inmaculada; DE LAS OLAS, María. Análisis discursivo de la violencia filioparental en diferentes producciones audiovisuales. Cuadernos Trabajo Social. n°33(1), p. 115-126, 2020.
ECHEGARAY, Fabían. ¿Hacia la politización del consumo en Brasil? Repensando el consumo ético desde la cultura política en Ambiente & Sociedade. 13 n°2. p. 383-400, 2011.
FLICK, Uwe. Introducción a la Investigación Cualitativa. Madrid, España. Fundación Paideia y Editorial Morata, 2012.
FOSTER, Hal. Preface, In: H. Foster (ed.) Vision and Visuality, Seattle W.A: Bay Press, p. 9-14, 1988.
FOUCAULT, Michel. Tecnologías del Yo y otros textos afines. I.C.E.- Universidad Autónoma de Barcelona. Barcelona, España. Editorial Paidós, 1991.
FOUCAULT, Michel. Historia de la Sexualidad, La Voluntad de Saber. (Tomo I). Ciudad de México, México. Editorial Siglo XXI, 1998.
FOUCAULT, Michel. Vigilar y Castigar. Madrid, España. Editorial Siglo XXI, 2000.
FOUCAULT, Michel. La arqueología del saber. Buenos Aires, Argentina Editorial Siglo XXI, 2002.
FUERTES, Marta y MASTRINI, Guillermo. La Industria Cinematográfica Latinoamericana. Buenos Aires, Argentina. ICRJ. La crujía Ediciones, 2014.
GONZÁLEZ, Fernando. Subjetividad social, sujeto y representaciones sociales. Centro Universitario de Brasil, Brasil. Revistas Diversitas, Perspectivas en Psicología. v. 4, n°2, p. 225-243, 2008.
GONZÁLEZ, Fernando. La subjetividad en una perspectiva cultural-histórica: avanzando sobre un legado inconcluso. Revista CS Cali, Colombia. n°11, p.19–42, 2013.
HALL, Stuart. La cultura, los medios de comunicación y el efecto ideológico, 1981. Disponible en línea . Consultado 1 de abril, 2020.
HALL, Stuart. Foucault: Power, Knowledge and Discourse, 1997. In Discourse Theory and Practice: A reader (2004) Wetherell, M. (et al.). Sage publications and University Open.
HONNETH, Axel. La lucha por el reconocimiento. Por una gramática moral de los conflictos sociales. Barcelona, España. Editorial Crítica, 1997.
HORKHEIMER, Max y ADORNO, Theodor. Dialéctica del iluminismo, Buenos Aires, Argentina. Editorial Sudamericana, 1987.
IAMAMOTO, Marilda. O Serviço Social na Contemporaneidade: trabalho e formação profissional. 10ª ed., São Paulo: Cortez, 2006.
IÑIGUEZ, Lupicinio. (ed.) Análisis del Discurso, Manual para las Ciencias Sociales. Madrid, España. Editorial UOC, 2003.
IBÁÑEZ, Tomas. Fluctuaciones conceptuales en torno a la posmodernidad y la psicología. Caracas. Universidad Central de Venezuela, 1996.
JAY, Martin. Downcast Eyes: The Denigration of vision in Twentieth Century French Thought. Berkeley, CA: California University Press, 1993.
KRACAUER, Siegfried. De Caligari a Hitler. Una historia psicológica del cine alemán. Barcelona, España. Editorial Paidós, 1985.
LECHNER, Norbert. La conflictiva y nunca acabada construcción del orden. Santiago, Chile. FLACSO y Ediciones Ainavillo, 1984.
LECHNER, Norbert. ¿Por qué la política ya no es lo que fue?, en Revista Nexos, 1995. Disponible en línea <https://www.nexos.com.mx/?p=7638>. Consultado 30 de marzo, 2020.
LÓPEZ DE LA ROCHE, Fabio. Aproximaciones al Concepto de Cultura Política. Revista Convergencia, n°22, p. 93-12, 2000.
MATO, Daniel. Towards a Transnational Dialogue and Context Specific Forms of Transnational Collaboration: Recent Studies on Culture and Power in Latin America and What our English-Speaking Colleagues call Cultural Studies. Keynote Speech, 3rd Int. Crossroads in Cultural Studies Conference, Birmingham, p. 21-25, 2000.
MEDALLA, Tania. Cine, Historia y Representaciones de la marginalidad: ciudad, cuerpo y narración en Madame Satá. ASAECA. III Congreso Internacional de la Asociación Argentina de Estudios de Cine y Audiovisual, 2012.
MIRZOEFF, Nicholas. ¿What is a visual culture? in N. Mirzoeff (ed.), The visual Culture Reader. London Routledge, p. 3-13, 1998.
MULVEY, Laura. Visual Pleasure and Narrative Cinema [Extract] in Visual Culture: The Reader, ed. by Evans, J. & Hall, S. Sage Publications and Open Universities, p. 381-389, 1975.
NIMMO Dan y COMBS, James. Mediated Political Realities, Nueva York, EE.UU. Longman, 1990.
ORTÍZ, Renato. Identidad y diversidad: de la cultura local a la global. Revista Austral de Ciencias Sociales, n°12. p. 131-144, 2007.
PEREA, Carlos. Somos expresión, no subversión. Juventud, identidades y esfera pública en el suroriente bogotano, En: Cubides, Humberto et al. (eds.), Viviendo a toda, Jóvenes, territorios culturales y nuevas sensibilidades. Bogotá, Colombia. Fundación Universidad Central, 1998.
RANCIÈRE, Jacques. La fábula cinematográfica: Reflexiones sobre la ficción en el cine. Barcelona, España. Editorial Paidós, 2005.
ROSE, Gillian. Visual Methodologies: An introduction to the interpretation of visual materials. London, UK. Sage Publications, 2007.
RYAN, Michael y KELLNER, Douglas. Camera Politica. The politics and Ideology of Contemporary Hollywood Films. Bloomington, Indiana University Press, 1988.
SALDARRIAGA-VÉLEZ, Jaime. Las escuelas críticas: Entre la socialización política y los procesos de subjetivación. Revista Latinoamericana de Ciencias Sociales, Niñez y Juventud, n°14 (2), p. 1389-1404, 2016.
SANTANDER, Pedro. Por qué y cómo hacer Análisis de Discurso. Revista Cinta Moebio, Universidad de Chile, n°41, p. 207-222, 2011.
SHAPIRO, Michael. Cinematic Geopolitics. New York, EE.UU. Editorial Routledge, 2009.
SIMMEL, Georg. On individuality and Social Forms. Chicago, USA. The University of Chicago Press, 1991.
SOMBERG, Renato. Cultura política patrimonialista e assistência social no Brasil: uma abordagem teórica. Revista Mosaico, v. 9, n°15. p. 223-238, 2018.
SORLIN, Pierre. Sociología del Cine. México. Fondo de Cultura Económica, 1985.
SOUZA, Ana. Las relaciones entre estética y política en el cine brasileño contemporáneo. Departamento de Comunicações e Artes de la Escola de Comunicações e Artes, Universidade de São Paulo, Brasil. ECA-USP, 2012.
STAFFORD, Barbara. Body Criticism: Imaging the Unseen in Enlightenment Art and Science. London: MIT Press, 1991.
TASSIN, Étienne. De la subjetivación política. Althusser, Foucault, Arendt, Deleuze. Revista de Estudios Sociales, n°43, p. 36-49, 2012.
TILLY, Charles. Grandes estructuras, procesos amplios, comparaciones enormes. Madrid, España. Alianza Editorial, 1991.
TONKISS, Fran. Analyzing Discourse, in: C. Seale (ed.) Researching Society and Culture. London: Sage, p. 245-60, 1998.
TRENZADO, Manuel. Cultura de masas y cambio político: el cine español en la transición. Madrid, España. Centro de Investigaciones Sociológicas y Editorial Siglo XXI, 1999.
TRENZADO, Manuel. El cine desde la perspectiva de la Ciencia Política. Revista Española de Investigaciones Sociológicas, n°92, p. 45-70, 2000.
VENEGAS, Mar. Devenir sujeto. Una aproximación sociológica. Revista Convergencia, 24(73), p. 13-36, 2017.
WETHERELL, Margaret. Conclusion: Debates in Discourse Research. In Discourse Theory and Practice: A reader, de Margaret Wetherell, Stephanie Taylor y Simeon Yates. London, UK. Sage Publications and University Open, 2004.
WETHERELL, Margaret y POTTER, Jonathan. El análisis del discurso y la identificación de los repertorios interpretativos. En: A. Gordo; J. Linaza (eds.). Psicologías, discursos y poder Madrid: Visor, 1996.
XAVIER, Ismail. Humanizadores do Inevitável. Revista ALCEU, v.8, n°15, p. 256-270, 2007.
YAZBEK, Maria Carmelita. O Desafio da defesa das Políticas Públicas para o Serviço Social. Argumentum, n°8(1), p. 6–13, 2016.
ZIMMER, Christian. Cine y Política, Salamanca, España. Ediciones Sígueme, 1976.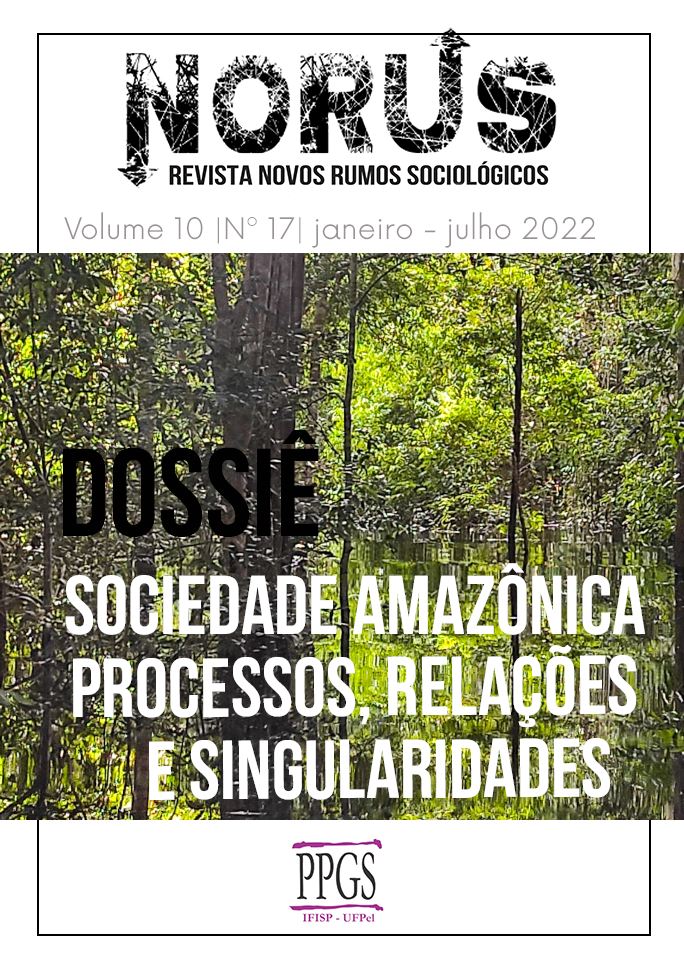 Seção
Artigo em fluxo contínuo
Copyright (c) 2022 Autor e Revista
This work is licensed under a
Creative Commons Attribution-NonCommercial-NoDerivatives 4.0 International License
.
Os Direitos Autorais para artigos publicados nesta revista são do(a) autor(a), com direitos de primeira publicação para a revista. Os artigos são de uso gratuito em aplicações exclusivamente acadêmicas e educacionais e, portanto, não-comerciais.