"Eran sólo indios…" La construcción de la alteridad mbya en el Alto Paraná de Misiones, Argentina (1920-1960)
Marilyn Cebolla Badie

Departamento de Antropología Social-Facultad de Humanidades y Ciencias Sociales-Universidad Nacional de Misiones (Argentina).

Maria Cecilia Gallero

Instituto de Estudios Sociales y Humanos. Universidad Nacional de Misiones-CONICET
Palavras-chave:
Relaciones interétnicas, situación de contacto, construcción de alteridad, mbya, Misiones.
Resumo
RESUMO: En el presente artículo nos proponemos analizar las representaciones de la sociedad "blanca" regional sobre los indígenas mbya, en la zona del Alto Paraná, Misiones, Argentina, en el periodo que transcurre desde el inicio de la colonización privada (1920) –con la ocupación permanente del territorio mbya y sus extensas selvas– y la posterior organización del estado provincial y el final del proceso de colonización en la región (principios de la década de 1960). Hemos estructurado el artículo en tres partes: en la primera se describen los frentes colonizadores, en la segunda se exponen algunos relatos de viajeros e investigadores que arribaron a Misiones a mediados del siglo pasado y visitaron aldeas indígenas, como así también las acciones de la recién creada Junta de Estudios Históricos de la provincia y en la última parte, a partir del trabajo de campo se analiza brevemente cómo fueron las relaciones interétnicas y cómo se fue construyendo la alteridad mbya desde la perspectiva de los inmigrantes colonizadores y la sociedad "blanca" en general.ABSTRACT: In this article we analyze the representations of regional "white society" in relation to Mbya Indians, in the area of Alto Paraná, Misiones, Argentina. We have worked in the period between the beginnings of private colonization (1920), -with European immigrants that occupied permanently the Mbya territory- to the subsequent organization of the provincial government and the end of the colonization process in the region (early 1960s).We have structured the article into three parts: the first one is about the settlement fronts expansion, the second describes some accounts of travelers and researchers who arrived to Misiones in the middle of the last century and visited Indian villages, as well as the actions of the recently new created Council of Historical Studies of the province; and in the last part, based in our fieldwork, we briefly discuss how were the interethnic relationship in the colonies and how it was built the Mbya otherness from the perspective of immigrant settlers and the "white" society in general.
Referências
BARTH, Fredrik. Los grupos étnicos y sus fronteras. México: Fondo de Cultura Económica, 1969.
BOURDIN, Jean-Claude. La invisibilidad social como violencia. In: Universitas Philosophica, n. 54, Año 27: 15-33, 2010.
BRIONES, Claudia. La alteridad del "Cuarto Mundo". Buenos Aires: Ediciones el Sol, 1998.
BRIONES, Claudia. Construcciones de aboriginalidad en Argentina. In: Bulletin de la Société Suisse des Américanistes, n. 68, p. 73-90, 2004.
CARDOSO DE OLIVEIRA, Roberto. Etnicidad y estructura social, México: CIESAS, 2007.
CARDOSO DE OLIVEIRA, Roberto. O indio e o mundo dos brancos, Sâo Paulo: Editora da Unicamp, 1996.
CEBOLLA BADIE, Marilyn y GALLERO, María Cecilia. Las relaciones blanco-indio a través del registro fotográfico en Misiones (1920-1960). In: GIORDANO, Mariana y REYERO, Alejandra. Identidades en foco. Fotografía e investigación social. Resistencia: Instituto de Investigaciones Geohistóricas (IIGHI - CONICET) - UNNE, 2012, p. 91-110.
CEBOLLA BADIE, Marilyn y GALLERO, María Cecilia. Luis Fernando Ruez, un médico particular. In: Revista Regional Somos Puerto Rico, Año 5, n. 21, p. 28-29, noviembre-diciembre, 2013.
CEBOLLA BADIE, Marilyn. Espacio, territorio y resistencia simbólica en los mbya de Misiones, Argentina. In: OROBITG, Gemma y LAVIÑA, Javier. Resistencia y Territorialidad: movimientos indígenas y afroamericanos, Serie Estudios de Antropología Social y Cultural 15. Barcelona: Departamento de Antropología Social e Historia de América y África, Universidad de Barcelona, 2008, p. 289-311.
CEBOLLA BADIE, Marilyn. Cosmología y naturaleza mbya-guaraní. Tesis (Doctorado en Antropología Social). Universidad de Barcelona, Barcelona. 2013.
COOPER, Ferguson J. Where you go- I go. England: F.J. Cooper, 1986.
DEVOTO, Fernando. Historia de la Inmigración en la Argentina. Buenos Aires: Ed. Sudamericana, 2004.
GALLERO, Cecilia. Con la Patria a Cuestas. La inmigración alemana-brasileña en la Colonia Puerto Rico, Misiones, Buenos Aires: Araucaria Editora – Instituto de Investigaciones Geohistóricas, UNNE, 2009.
GALLERO, Cecilia. Memorias inversas: criollos vs. colonos a través de un estudio de caso sobre el imaginario en la colonización de Misiones. In: GIORDANO, Mariana, SUDAR KLAPPENBACH, Luciana e ISLER, Ronald. Memoria e imaginario en el Nordeste Argentino. Escritura, oralidad e imagen, Rosario: Prohistoria, 2013, pp.183-216.
GALLERO, Cecilia y KRAUSTOFL, Elena. Proceso de poblamiento y migraciones en la Provincia de Misiones, Argentina (1881-1970). In: Avá. Revista de Antropología, n. 16, p. 245-264, diciembre 2009.
GOROSITO KRAMER, Ana María. Encuentros y Desencuentros. Relaciones Interétnicas y Representaciones en Misiones, Argentina. Tesis (Mestrado en Antropologia) Universidade de Brasilia, Brasilia, 1983.
HANKE, Wanda. Dos años entre los Cainguá. Buenos Aires: Colección Mankacén, 1995.
HEIM, Arnoldo. América del Sur. La vida y la naturaleza en Chile, Argentina y Bolivia. Barcelona: Ed. Labor, 1967.
JAQUET, Héctor. En otra historia, Posadas: Editorial Universitaria de Misiones, 2001.
JAQUET, Héctor. Los combates por la invención de Misiones. Posadas: Editorial Universitaria de Misiones, 2005.
KOPP, Thomas Die Siedlung im Walde, Buenos Aires: Verlag "El buen libro", 1949.
MISIONES, Archivo General de la Gobernación, Boletín Oficial, 1954.
MISIONES, Junta de Estudios Históricos, Boletín, 1944.
NAUJORKS, Arnoldo. Grüne Hölle am Alto Paraná. Montecarlo: el autor, 1994.
PERIE de SCHIAVONI, Ángela y ZOUVI, Susana. La Colonización en Misiones: 1° Parte (Contexto internacional, nacional y sus antecedentes). Posadas: Centro de investigaciones histórico-culturales, Instituto de Investigación, Facultad de Humanidades y Ciencias Sociales, UNaM, 1985.
SEGATO, Rita. La Nación y sus Otros. Raza, etnicidad y diversidad religiosa en tiempos de Políticas de la Identidad. Buenos Aires: Prometeo Libros, 2007.
SCHMITZ, Arsenio. Neue Heimat in Nova Petropolis. Roma: Verlag der Gregorianische Universität, 1977.
STEFAÑUK, Miguel Ángel Patrón de Asentamiento: su evolución histórica en la Provincia de Misiones. In: I Jornadas de Poblamiento, Colonización e Inmigración en Misiones, Posadas: Ed. Montoya, 1999, p. 301-310.
STOLKE, Verena. Los mestizos no nacen sino que se hacen. In: STOLKE, Verena; COELLO, Alexandre, Identidades ambivalentes en América Latina (siglos XVI-XXI). Barcelona: Bellaterra, 2007, p. 14-51.
THOMPSON, Reginald. Voice from de wilderness. London: Faber and Faber, 1940.
TODOROV, Tzvetan. Nosotros y los otros. México: Siglo XXI, 2013.
VV. AA. Guarani Reta 2008, Los pueblos guaraníes en las fronteras. Asunción: UNAM, ENDEPA, CTI, CIMI, ISA, UFGD, CEPAG, CONAPI, SAI, GAT, SPSAJ, CAPI, 2009.
WILDE, Guillermo. Imaginarios contrapuestos de la selva misionera. Una exploración por el relato oficial y las representaciones indígenas sobre el ambiente. 2005. Disponible en: <http://bibliotecavirtual.clacso.org.ar/ar/libros/becas/JOV01Geopoliticadelaecologia/Wilde>. Consultado : 12/10/2016.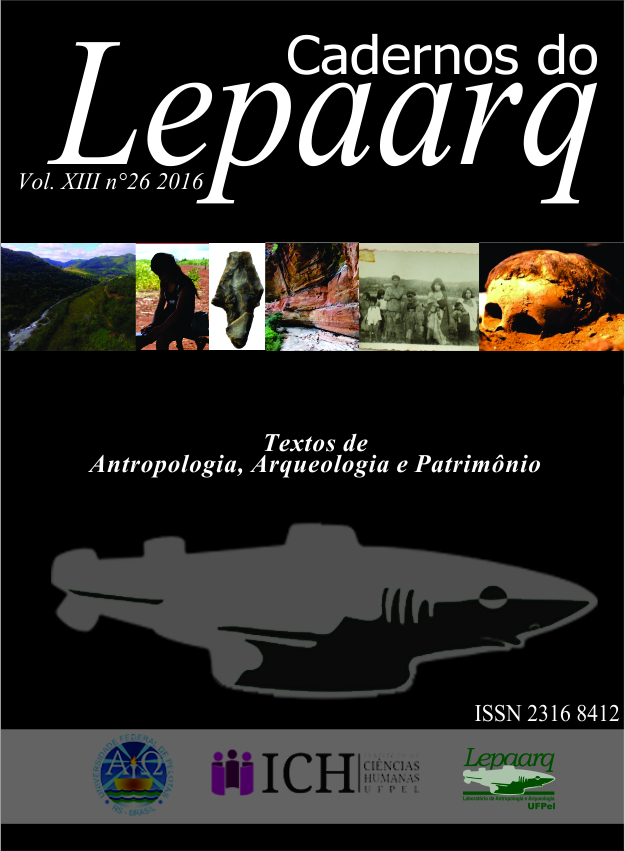 Seção
Dossiê Colonialismo, Processos, Territórios e Povos Indígenas na Região Platina
Copyright (c) 2016 Marilyn Cebolla Badie, Maria Cecilia Gallero
This work is licensed under a
Creative Commons Attribution-NonCommercial 4.0 International License
.
Os Cadernos do LEPAARQ publicam artigos em português, espanhol, italiano, francês e inglês, sem cobrança de nenhum tipo de taxa em nenhum momento, respeitando a naturalidade e o estilo dos autores. As provas finais serão enviadas aos autores, para sua conferência antes da publicação. O Conselho Editorial não se responsabiliza por opiniões emitidas pelos autores dos trabalhos publicados. O periódico Cadernos do LEPAARQ  oferece acesso livre imediato ao seu conteúdo, seguindo o princípio de que disponibilizar gratuitamente o conhecimento científico ao público proporciona maior democratização mundial do conhecimento. Os textos publicados poderão ser depositados imediatamente pelos autores em suas páginas pessoais, redes sociais e repositórios de textos.Nesse sentido, o periódico não tem fins lucrativos, de modo que os direitos autorais dos artigos publicados pertencerão aos respectivos autores e estes não receberão nenhuma forma de remuneração. Dessa forma, ao enviar o artigo, o autor do mesmo estará automaticamente aceitando esta condição. A reimpressão, total ou parcial, dos trabalhos publicados deve ser apenas informada pelos seus respectivos autores ao conselho editorial do periódico. OBS. Cabe(m) ao(s) autor(es) as devidas autorizações de uso de imagens com direito autoral protegido (Lei nº 9610, de 19 de fevereiro de 1998), que se realizará com o aceite no ato do preenchimento da ficha de inscrição via web.